Tian Nan Xing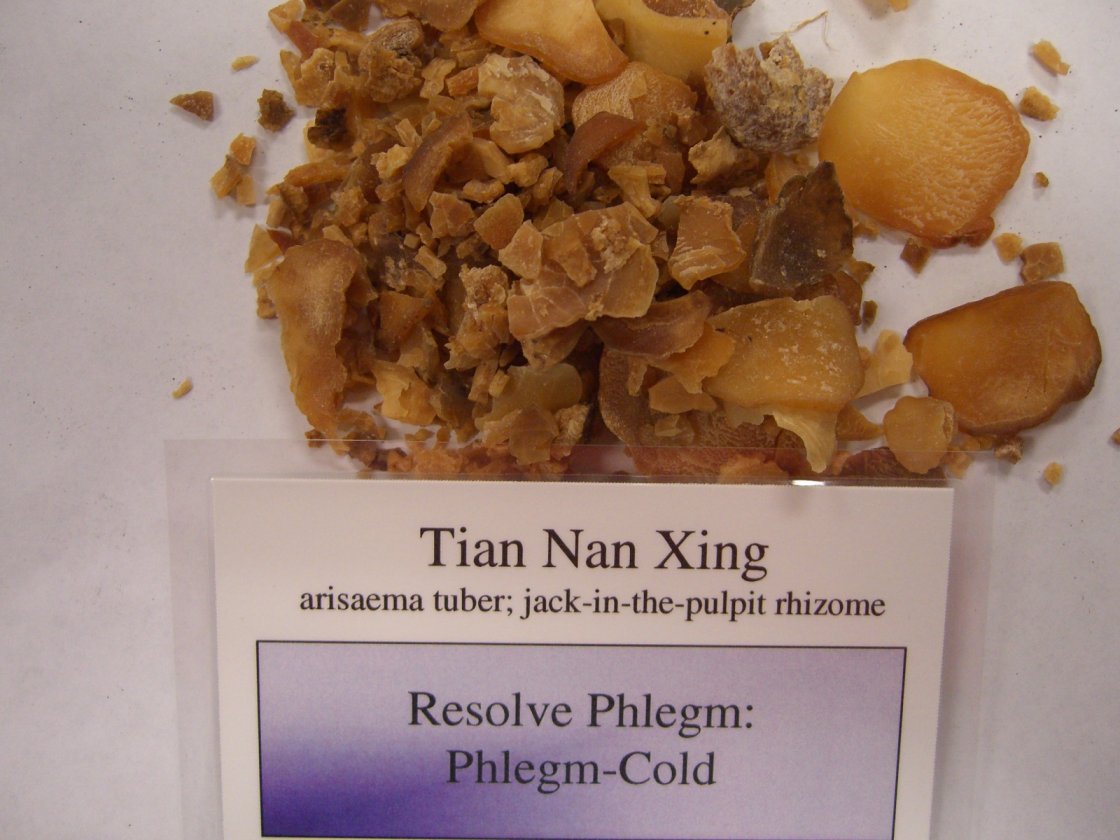 Tian Nan Xing in TCM:
Explore the properties of Tian Nan Xing according to Chinese
Nutrition and Traditional Chinese Medicine (TCM):
Factoids:
English Name: arisaema, jack-in-the-pulpit tuber
Pharmacuetical Name: Rhizoma Arisaematis
Properties: bitter, acrid, warm
Temperature:
warm
Channels:
LU, SP, LV
Flavors:
bitter, pungent
Special Properties:

clears damp, eliminates toxins, resolves phlegm
Alternate Forms:
Zhi - internal use
Sheng - topical use only
Dan Nan Xing- bitter, cool; prepared with cow bile; clears and transforms phlegm-heat; extinguishes wind; arrests tremors; 3-6g;
Actions / Indications:
Dries dampness, transforms phlegm (cough, stifling sensation, distension in chest due to stubborn phlegm)
Dispels wind-phlegm in channels to stops spasms (LV wind with rising phlegm stagnation; dizziness, numbness in limbs, facial paralysis, lockjaw, spasms in hands and feet, opisthotonos, epilepsy, stroke, seizure)
Clears toxicity; reduces swelling (ulcers, deep-rooted sores, carbuncles, joint pain and swelling, modern use for rheumatoid arthritis, cervical cancer, use fresh topically)
(cc: pregnancy)
(cc: yin deficiency, dry phlegm)
Special Notes:
Compare to Ban Xia. Ban Xia mainly treats damp phlegm while Tian Nan Xing mainly treats wind phlegm.
Tian Nan Xing and Dan Nan Xing are similar but Tian Nan Xing is bitter, warm, and dry. Dan Nan Xing is bitter, cool, and moistening.