Wei Ling Xian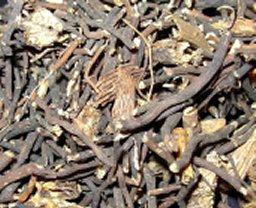 Wei Ling Xian in TCM:
Explore the properties of Wei Ling Xian according to Chinese
Nutrition and Traditional Chinese Medicine (TCM):
Factoids:
English Name: clematis, Chinese clematis root
Pharmacuetical Name: Radix Clematidis
Properties: acrid, salty, warm
Temperature:
warm
Channels:
UB
Flavors:
salty, pungent
Special Properties:

disperses cold, clears damp, disperses wind
Actions / Indications:
Dispels Wind Damp; unblocks channels; alleviates pain (wind damp bi, spasms of sinews, immobile joints, painful extremities)
Softens and Dispel fish bones (small bones that are superficially lodged in the throat)
(cc: qi and blood deficiency)
Special Notes:
Wei Ling Xian helps to dislodge fish bones by relaxing the throat muscles - it does not actually dissolve bones.
Mu Tong is also called clematis, but is not the same as Wei Ling Xian.
Compared to Hai feng teng wei ling xian is stronger and faster. Hai feng teng is milder and moves blood.