Xia Cu Cao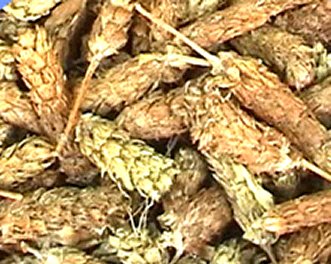 Xia Cu Cao in TCM:
Explore the properties of Xia Cu Cao according to Chinese
Nutrition and Traditional Chinese Medicine (TCM):
Factoids:

English Name: prunella, flower (fruit-spike) of common selfheal
Pharmacuetical Name: Spica Prunellae
Properties: bitter, acrid, cold
Temperature:
cold
Channels:
LV, GB
Flavors:
bitter, pungent
Special Properties:

clears heat, reduces swelling
Actions / Indications:
Clears LV fire and brightens the eyes (Liver fire or LYR with red swollen painful eyes, photophobia, headache, dizziness; Liver yin deficiency with eye pain that worsens at night; modern use for hypertension, hepatitis, hepatomegaly)
Clears heat and dissipates nodules (lumps or nodules due to phlegm fire in meridians: scrofula, goiter, swollen glands, fatty tumours, scrofula, lipoma, breast cysts)
(note: lowers high blood pressure)
(cc: SP or ST deficiency)
Special Notes:
Xia Ku Hua and Xia Ku Cao are often used interchangeably, however Xia Ku Cao is generally considered more potent and more desireable.
For Liver yin deficiency with eye pain that worsens at night when combine Xia Ku Cao with yin nourishing herbs.
Xia Ku Cao lowers blood pressure.