Bu Gu Zhi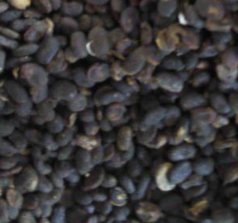 Bu Gu Zhi in TCM:
Explore the properties of Bu Gu Zhi according to Chinese
Nutrition and Traditional Chinese Medicine (TCM):
Factoids:
English Name: psoralea fruit
Pharmacuetical Name: Fructus Psoraleae
Properties: bitter, acrid, very warm
Temperature:
warm
Channels:
SP, KD
Flavors:
bitter, pungent
Tonifies:
qi, yang
Special Properties:

essence, disperses cold
Actions / Indications:
Tonifies KD; fortifies yang; stabilizes essence; retains urine (impotence, premature ejaculation, spermatorrhea, cold, painful low back or weak back and extremities; enuresis, urinary incontinence, frequent urination)
Warms SP; stops diarrhea (deficient cold diarrhea, borborygmus, abdominal pain)
Aids KD to grasp Qi (asthma due to Kidney qi deficiency)
Treats skin problems (topical use for alopecia, psoriasis, vitiligo)
Special Notes:
Pharmacologically Bu Gu Gu Zhi has been found to dilate the coronary artery, to have antibiotic properties, to have marked anti-asthmatic properties, to relax and stimulate smooth muscle in the intestines, and to inhibit DNA synthesis of cancer cells.
Combined with Ge jie and Dong chong xia cao for asthma
Combined with Yi Zhi Ren to tonify the KD and consolidate essence
Contraindications:
(cc: yin deficient heat or constipation)




As an Amazon Associate we earn from qualifying purchases. Please support this site by using the above links to order!