Du Zhong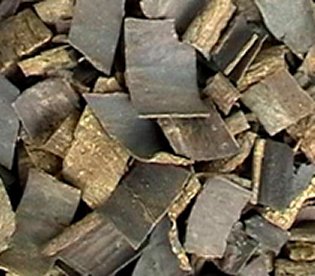 Du Zhong in TCM:
Explore the properties of Du Zhong according to Chinese
Nutrition and Traditional Chinese Medicine (TCM):
Factoids:
English Name: eucommia bark
Pharmacuetical Name: Cortex Eucommiae
Properties: sweet, warm
Temperature:
warm
Channels:
KD, LV
Flavors:
sweet
Tonifies:
blood, yang, jing
Alternate Forms:
Chao Tan: stop bleeding
Actions / Indications:
Tonifies the LV and KD; strengthens bones and sinews (weak / sore / painful low back, knees; fatigue; seminal emission, frequent urination; impotence, uterine bleeding)
Treats Hypertension (modern use for hypertension)
Calms the fetus (deficient cold of Kidney with bleeding during pregnancy; prevent miscarriage; low back pain with deficiency signs in pregnant women)
Special Notes:
Tonifies LV Blood and Jing to assist sore back and knees
Combine Du Zhong with Huang Qin and Xia Ku Cao to treat hypertension.
Dry fried Du Zhong is regarded as more potent than unprocessed. Salt fried is the preferred form to treat low back pain, spontenous seminal emission, and unstable pregnancy.
Contraindications: